We are Open Saturday 6th August 8am – 12.30 by appointment only. We are unable to accommodate walk – ins on Saturdays Kind regards & many thanks The Garage Shefford .
Staying COVID-19 Secure
Following an inspection from the Independent Garages Association we have been certified as complying with the government's guidance on managing the risk of COVID-19.
This means:
We have carried out a COVID-19 risk assessment and shared the results with people who work here
We have cleaning, hand washing and hygiene procedures in line with guidance
We have ensured our staff are equipped with the relevant PPE
We have taken all reasonable steps to maintain a 2m distance in the workplace
Where people cannot be 2m apart, we have done everything practical to manage transmission risk
The Independent Garages Association is part of the Retail Motor Industry Federation (RMI), a leading automotive trade body in the UK.
Our certificate is below: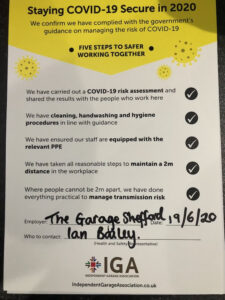 We have green status…

You, our valued customer, will be pleased to know that we are a green status test station
Find out

more
Assessed by